John Hovde - Horsemanship & Cow Flag 2021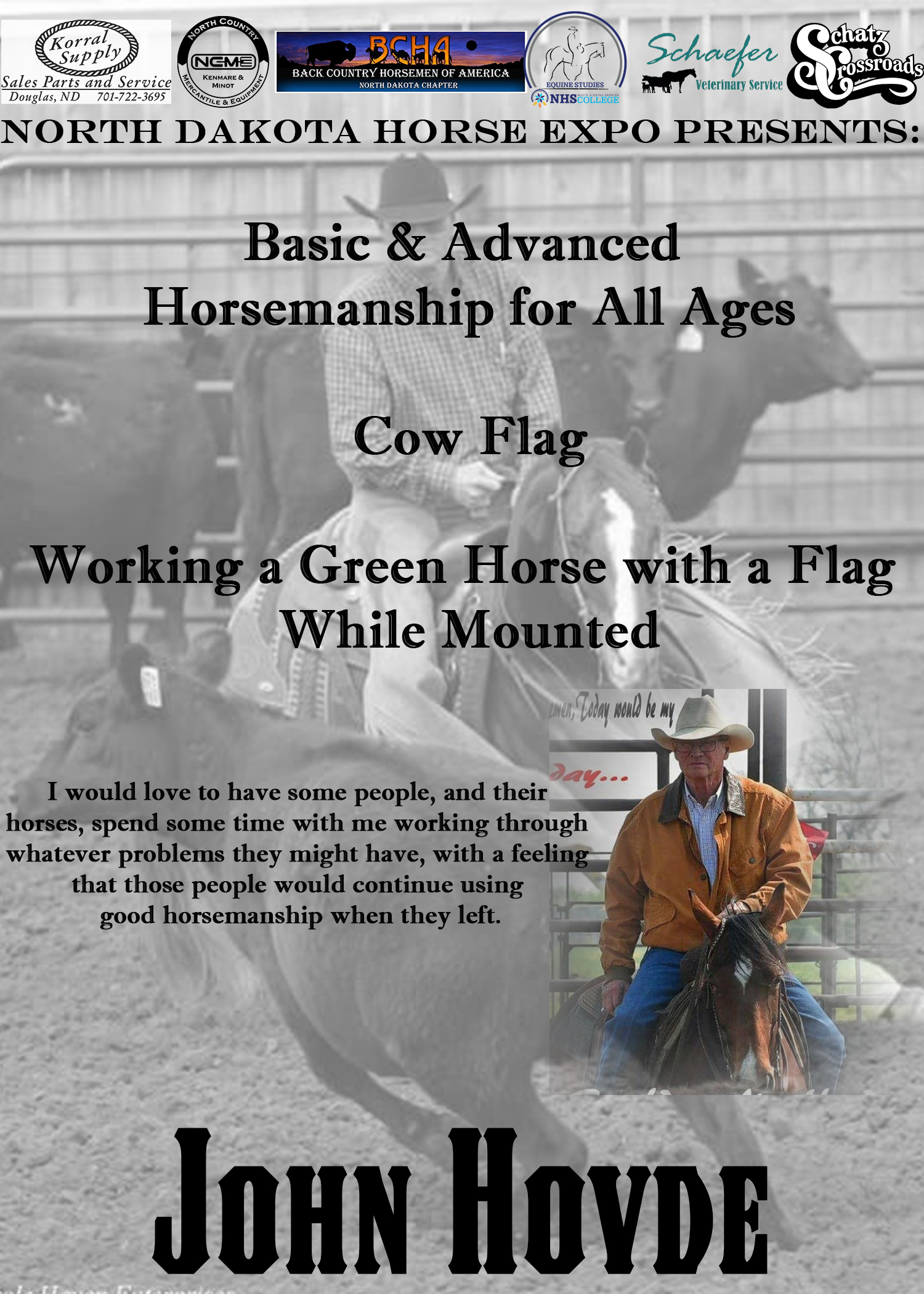 John Hovde was raised on a ranch along the Missouri River near Williston. He learned how to train horses at an early age and started attending Ray Hunt clinics while living in MT. After moving back to ND with his family he began teaching 4H clinics. After many years of 4H clinics he expanded cattle working and horsemanship clinics to the open public. Along with being an adjunct professor for NDSU, John is active in cutting events around ND and the surrounding areas. John has been very active in multiple equine organizations throughout the years and is a part in starting the ND AQHA Trail Ride which continues to this day. In 2009 he was inducted into the ND Cowboy Hall of Fame & in 2016 the NDQHA Hall of Fame. John would love to have some people, and their horses, spend some time with him working through whatever problems they may have, with a feeling that when those horses left, their people would continue to treat and handle them with the best of horsemanship for the rest of their lives.
Working Cow Flag
- Slowing things up and having control of what the cow does is a
major goal of working the flag. Horses need to work cattle to learn how to read them, stop and turn
with them however cattle do not do exactly what you want them to do in a teaching situation. It has
proven beneficial to use a flag or mechanical cow, which we have total control of, because we can slow
things up and use repetition to teach a horse.
- NHSC Equine Education Arena @ 7:30pm Fri & 8:30pm Sat
- 3 Spots Per Session (6 Spots Remaining)
Horsemanship For All Ages & Skill Levels - $150 Per Session Per Rider Includes Parking pass
- All Seasons Arena @ 11am Sat & 10am Sun
- 3 Spots Per Session (3 Spots Remaining)