Jenna Mickelson - Horse Showing 101, Mechanics of Trail Class 2021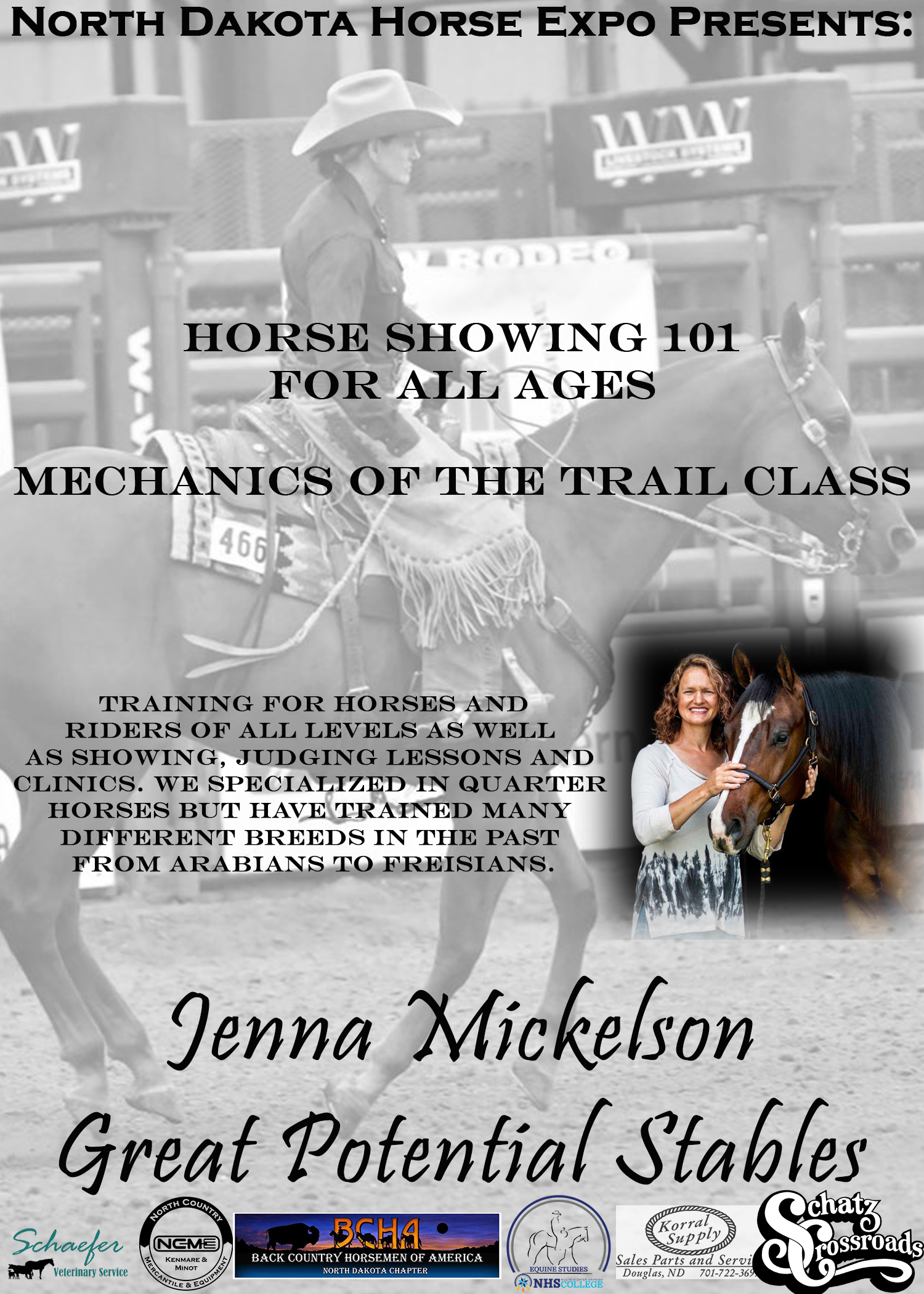 Jenna Mickelson owns and operates Great Potential Stables in Grand Forks, North Dakota. She has been training and showing professionally since 1996. She primarily trains and shows Quarter Horses and Appaloosas, but has experience with many other breeds as well. She is an AQHA Professional Horseman, and has been a Board Member and President in the North Dakota Quarter Horse Association and the North Dakota Appaloosa Horse Club for 13 years. In addition to training and showing, she is an experienced judge and clinician, gives lessons from beginning to advanced and does farrier work as well. Her specialty is creating All Around type horses with Trail and Ranch classes as her concentration, but she has accumulated over 1000 breed show points in 13 different types of classes. Her clients have shown to Top 3 placings at the AQHA World Show as well. She enjoys teaching and hopes to work in the coming years to bring horse experiences to youth in the surrounding communities and help build the future of the horse industry as a whole.
Horse Showing 101 - $150 Per Session Per Rider Includes Parking Pass
- Western pleasure & ranch riding for beginners & advanced riders of all ages.
- NHSC Equine Education Arena @ 11am daily
- 3 Spots Available Per Session (8 Spots Remaining)
Mechanics of the Trail Class - $150 Per Session Per Rider Includes Parking Pass
- Mechanics of the trail class & how to get your horse shown over obstacles. Techniques & tricks for riders of all levels.
- NHSC Equine Education Arena @ 2pm Fri, 7:30pm Sat, and 4:30pm Sun
- 3 Spots Available Per Session (9 Spots Remaining)